We have reached a new level of performance with the introduction of our Radial Winch line. Details you'll like include reduced wear on the line: the gripping surfaces of Radial Winches are shaped and do not depend on friction to hold the line. Also, we've completely covered the winch tops so fingers and clothing don't get caught in moving parts. Seasonal maintenance is now exceptionally easy— the top lifts out as a single unit, making reassembly quick and mistake-free.
The Radials grip works like a screw which drives the line downwards when easing to keep it on the part of the drum where you have best control. The composite roller bearings and bushings reduce friction under load, have excellent corrosion resistance and doesn't require lubrication. This also means that the winch is 25 to 50 percent lighter than conventional winches.
Why does the chrome radial winch have a different grip pattern than an aluminum radial?
Chrome has a more slippery finish than aluminum, so the ribs on chrome Radial winches are spaced closer together to increase friction. This optimizes your grip for trimming as well as for easing the sail.
Single Speed: 15ST, 20ST.
Two Speed: 35.2ST, 40.2ST, 46.2ST, 50.2ST, 60.2ST.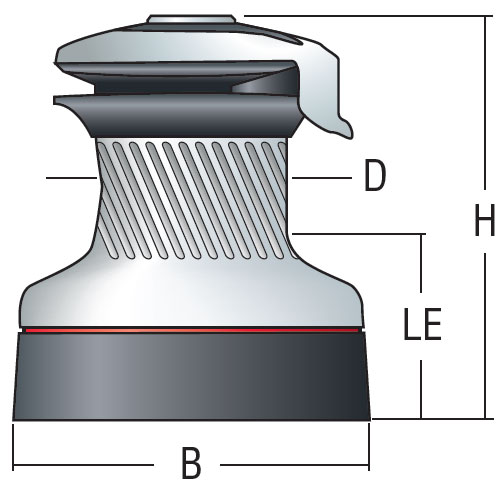 Specs for the 15STA
Material Aluminum – Drum Ø 73mm
Base Ø 120mm – Height 139mm
Weight 2.1 kg – Line entry height 58 mm
Minimum line Ø 6mm – Maximum line Ø 10mm
Fastener circle 100mm – Fasteners 5x6mm HH/SH
Gear ratio – 2:43 – Power ratio – 16:9